Hello there! I hope you had a lovely weekend! Stopping in today with some fun little lanterns that are so quick and easy to make! You can also put a small gift, chocolates or a little bag of nuts in the lantern as well since it is lit with a battery operated tealight. They would also make really sweet Place card settings for your holiday table or even a December Wedding! But since the actual boxes I am using are not Christmas themed, they can be used at any time of the year! How sweet would these look around your Holiday table or at a wedding reception, all lit up on the tables! :) And they literally take minutes to make!
The template to make the diamond style boxes are from the
iralamija shop
on Etsy. Just print out the
Boxes No. 1 Collage
and cut them out. There are 5 different sweet designs in the collage. This is how 1 of the boxes looks when printed.
Punch or die cut a circle in the center of the box, slightly smaller then the diameter of your tealight. This will leave an opening at the bottom of the lantern, so you can easily turn on and off the tealight without having to open the box.
Next, using any shape die or punch you like, add little "windows" on each panel of the box so that the tealight will show through. You can even add a piece of acetate or vellum over each window. Just adhere to the inside portion of the box.
Next, adhere the tealight to the inside of the box using hot glue, making sure the little switch on the bottom shows through the hole.
Lastly, decorate as desired. You can also put a little gift, chocolates, etc inside and add names to the tags to act as place card settings.
They also make cute little decorations for a mantle or table too!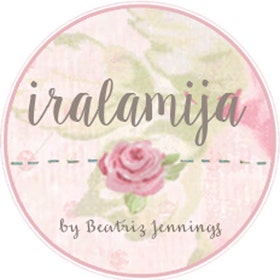 I hope you have a sweet day!
hugs...