The
May APG Die of the Month, Nostalgic Serenade Card Frame Die
, is absolutely stunning!! Even the name of the Die is beautiful, don't ya think?! This Die could be used to make so many types of projects!
Here is what the Die looks like~
NOSTALGIC SERENADE CARD FRAME DIE
If you want to find out more about the Club - prices, how you sign up and what's included, please look -------->
HERE
.
If you missed the introduction and want to know more about what inspired the Die of the Month Club, look ------->
HERE
.
My First Project Today:
Since it's Mother's Day, I had to make something with my kiddos in it! :) This beautiful Die fits perfectly over a shadowbox, which I made with the
APG Shadowbox Frame with 3/4" Border Etched Dies
.
This was so fun and easy to make. I cut a piece of acrylic large enough to adhere over the frame and then stamped onto it centering it over the picture. I then added the large Die cut over that and added lots of pearls.
I then hot glued a little wooden stand to the bottom of the frame and added some ribbon. This would make a great Mother's Day gift for sure!
My Second Project~
I made a simple but elegant card with these gorgeous Dies! These are one of those Die Sets that you could use over and over again and make them look so different! The sentiment I used on this card is from the
Beautiful Dreamer Stamp and Die Set
by Becca. I think, this would make a perfect graduation card!
For this month's Die of the Month, we cut it up and folded it up! More inspiration is just a click away. Stop by with each Creative Team Member to see how they manipulated this die to come up with a unique project for you to try!
We can't wait to see what you make with these exclusive dies – be sure to post your creation on the Amazing Paper Grace Die of the Month page -------> HERE or on Instagram using the hashtag #AmazingPaperGraceClubKit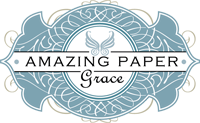 I hope you all have a lovely Mother's Day!!
hugs...