Have you ever needed to make a card and hunted through your stash and found that you could not find a sentiment with the right word? Well, look no more! It was out of that frustration that Becca created a sweet set that will accommodate that exact word you are looking for with One Kind Word Alphabet Collage.
Now you can headline with Sorry, Amazing, Silly, Fierce, Happy, Heaven, Gather, Home, Grow, Friend, Bestie and the list goes on and on. No need to stick with one word, you can have two - U Rock, Adore U, My Love.
One of the things we share when we share a handmade card, is kindness. What better way to share that kindness than to put the exact word you mean on the front of the card. Nothing like getting right to the point! The Alphabet collage is a card in and of itself but the words you can make with the letters that fall out, are priceless. You can use the 5 x 7 Sentiment Frame or go naked and simply make up your own sentiment.
As soon as I saw this Die Set, I thought of a Teacher card. I guess because of the alphabet dies. But the amazing thing about this Die set is that you can create ANY words or sentiments that you want. It can be made into a shabby card, or a clean and simple card or anything in between. So FUN!
My Project Today:
I simply die cut the large frame die using some dark blue cardstock and another using white cardstock. I then adhered the white frame behind the blue one slightly off center so the blue would have a white "shadow". I then die cut the letters out using light green, white and red cardstock. I then adhered the white "Thank You" onto a piece of black cardstock and adhered it to the bottom portion of the blue frame. I then added the green ABC letters to a piece of red cardstock and then adhered that to the top portion of the frame. Then the red TEACHER letters to the white banner. I then finished it off with some pearls, red ribbon and ruler ribbon.
If you want to find out more about the Club - prices, how you sign up and what's included, please look --------> HERE.

If you missed the introduction and want to know more about what inspired the Die of the Month Club, look ------->HERE.

More inspiration is just a click away. Stop by with each Creative Team Member to see how they manipulated this die to come up with a unique project for you to try!
GIVEAWAY:


We are giving away 4 Dies of the Month that include any month up to and including the September Die of the Month. All you have to do is leave a comment on each Creative Team Members Blog for more chances to win. In your comment tell us what word are you itching to put on your card?
We'll pool all the comments from all the blogs together and randomly pick four. The giveaway is open to anyone in the world and the winners will be picked on the Amazing Paper Grace Blog on October 9th.
See the Amazing Paper Grace Blog for Giveaway Rules.
We can't wait to see what you make with these exclusive dies – be sure to post your creation on the Amazing Paper Grace Die of the Month page -------> HERE or on Instagram using the hashtag #AmazingPaperGraceClubKit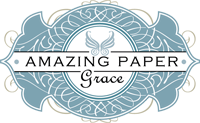 Happy World Card Making Day!
hugs...