Hello! Can you believe Christmas is less than a week away? I'm stopping in today with a quick and easy place card setting you can make to dress up your holiday table. It is a little paper ornament that only takes minutes to make.
I used some beautiful collages from the
iralamija shop
on Etsy to make it. I used 4 different collages to make this and the total cost would be $17.35 for all 4. And since these can be printed over and over again, you can make endless "paper ornaments" for under $20! To get started, I re-sized the
Christmas Strips Collage
simply using Microsoft Word (you can use any photo editing software) so that the strips were longer and skinnier than they would normally print out.
Then using a hot glue gun, make a circle out of one of the strips.
Then adhere another strip around the first circle.
Continue adding "circles until you make a ball. You can add as many as desired. I just used the 6 strips that were included. Adhere a "base" to the bottom of your ornament using a punched or die cut scallop circle.
Then decorate as you wish! I used the
Christmas Story Collage
(which a name can easily be added to any of these images using either a printer and a marker or pen),
Vintage Christmas Tickets
and the
Christmas Expressions Collage
.
I finished it off with some hand dyed seam binding and pearls. Before completely closing up the ornament, you could also put a little battery operated tea light into each one for a wonderful effect on your holiday table! They would make just some simple decorations on any table or you can even leave off the "base" and hang them on the tree.
I hope you stop by the
iralamija shop
for some beautiful vintage and shabby chic designs!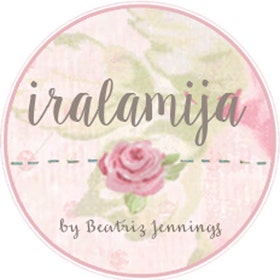 Hope you all have a wonderful Christmas!!
hugs...